PROCESS TO UPGRADE TO RETAILER OR DISTRIBUTOR.
ON NEW FREE REGISTRATION, YOUR WALLET IS EMPTY.
▶
HOW TO LOAD WALLET
==>>
Deposit Minimum Rs 2000 to Bank account of Myrecharge.
U can use Cash Deposit or Transfer or any other option.
1 > Now You OPEN APPS. Click Topup Request, Enter Correct Details of Deposit/Transfer. Submit.
2 > OR Better Option==>> Just Send Whats App or Call with your UserID, Transaction Photo, Other Transaction Details to 9674966539 / 9674966485 / 7890879934 / 7890879935 / 9674804121 / 9674344025. within 10am to 7pm.
Get Rs 25 extrGet Rs 25 extra on Deposit above Rs 10000.br />
Or LOAD WALLET => Pay using PAYTM

Minimum Rs 300, Maximum Rs 2000.
Send Amount to +91-7278193501 or scan QR Code.
Send and report Transaction Id to 7278193501 or 7679451122 (Call or Whatsapp)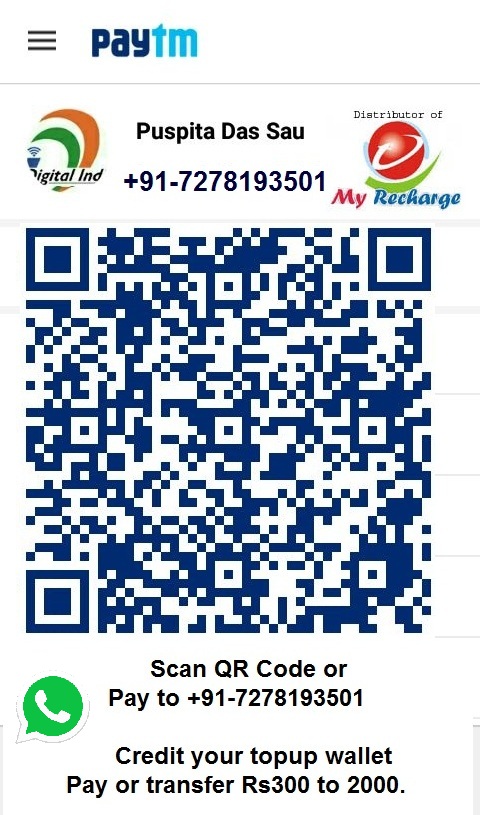 ▶▶Open Browser like Chrome, Opera, of Mobile or PC
===>>
https://www.myrecharge.co.in/default.aspx Enter UserID and Password. /> Click Submit On Home Page Click Buy Now. ⏩Buy any product. ⏺Select Franchisee as Company Franchisee 001.
Get Home Delivery Product By Post within maximum 30 days.
▶▶
UPGRADE
to Retailer or Distributor within 30 days of joining.
🔹Buy 350 BV means Minimum Rs 491 product. Become RETAILER. /> 🔹Buy 1800 BV in total . Become DISTRIBUTOR.
Check Image for Products
GOOD LUCK